By Hiba Giacoletto, Healthwise
Zucchini Crust Pizza is easier to make than traditional pizza, and it is also a great way of eating more vegetables while eating less white flour.
This healthier pizza is simply a crust of made of grated zucchini mixed with eggs. The pizza taste really comes from the toppings - you can add whatever you like.
Through sheer laziness, I recently experimented with a tomato sauce that doesn't actually need to be cooked to taste amazing and I share the recipe for this below. Besides using it for this pizza, you can also combine this tomato sauce with zucchini noodles for a completely raw meal or with normal pasta which heats up the sauce and tastes wonderful.
How to Make the Zucchini Crust
Preheat oven to 220 degrees Celsius.


Grate 2 small, 1 1/2 medium or 1 really big zucchini in a bowl.


Place the zucchini in a clean dish towel, cheese cloth or nut milk bag and squeeze until all the liquid has come out. This is really important – otherwise your pizza will be soggy!


Add 2 small eggs or 1 large egg and mix.


Add about 1 tsp dried oregano and a pinch of salt.


Mix everything together and transfer to a pie dish. Press down the mixture with your hands so that it is well packed.


Place the crust in the oven for about 15 minutes or until it is golden brown and solid. Once it is ready, take it out of the oven and lower the heat to 200 degrees Celsius.
Raw Tomato Sauce
While your crust is cooking, prepare the raw tomato sauce.


Place 4 medium tomatoes, roughly cut in a blender or food processor.


Add 2 cloves garlic, salt and pepper to taste.


Add 4 dried tomatoes for a more intense, umami taste.


Do not add any water or olive oil if you are making this for pizza so that it does not become too watery.


If you are making it for pasta, you can add a little olive oil and a small onion and 1/2 bell pepper as well as a little fresh basil. Add to the blended tomato mix and pulse once to combine so that there are still some chunky bits.
Toppings
Use the tomato sauce above as a base and add whatever you want. Here I used Mozzarella di Bufola, a chopped red onion, red bell pepper and some fresh basil at the end.


Place all the toppings on the crust and put back in the oven for a few more minutes, until the cheese is melted and it looks ready.


This can keep for a few days in the fridge and is delicious served cold as well!
Author's bio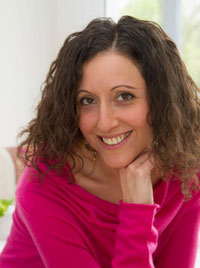 Hiba Giacoletto is a Certified Health Coach from the Institute for Integrative Nutrition (IIN) with a Masters Degree in Psychology
Hiba helps people lose weight, feel more energetic or take control of their eating without diets or deprivation. She believes that no one way of eating or living works for everyone and that it is about experimenting to find what truly works for you. She uses a unique blend of NUTRITION + PSYCHOLOGY + COACHING to help people start trusting their body's wisdom to make food and lifestyle choices that enable them to look and feel their best. She is convinced that regardless of what you might have tried in the past, she can help you get unstuck, overcome self-sabotage behavior and find your mojo!
You can book a FREE 45 minute Health Chat via her website, www.healthwise.ch to find out whether Health Coaching is right for you.
www.healthwise.ch
www.facebook.com/healthwise.ch
www.twitter.com/HibaGiacoletto
www.pinterest.com/healthwisech/