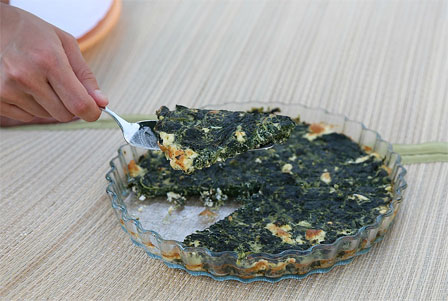 By Hiba Giacoletto, Healthwise
This Crustless Spinach-Feta Pie makes the perfect healthy, easy addition to your picnics this summer!
This recipe uses frozen spinach. Frozen vegetables (without anything added) are a convenient and healthy alternative to fresh vegetables as they are flash frozen just hours after being picked, ensuring the greatest amount of nutrient is retained.
The beauty of this recipe is that you can have all the ingredients handy and whip it together last minute. I always make sure I have frozen vegetables like spinach in the freezer and Feta is one of my staples as it lasts for months in the fridge. I also always have eggs, as they make the perfect healthy fast food and often keep my garlic peeled in a jar in the fridge.
Quick, simple, tasty and with no extra grocery planning needed – what more to ask for from a recipe?
INGREDIENTS
500g frozen spinach leaves (with nothing added)
2 medium-large eggs or 3 small eggs
2-3 cloves garlic (depending on their size and your love of garlic)
1 block Feta cheese, chopped into small pieces
Salt, pepper & ground nutmeg to taste
METHOD
Preheat oven to 180 degrees Celsius.


Take frozen spinach from the freezer and place in a pot with 2 tablespoons water. Cover pot and leave on medium-high heat for about 10 minutes, stirring occasionally.


While the spinach is cooking, chop the Feta and peel the garlic.


Once the spinach is cooked, crack the eggs in a bowl and whisk to mix, adding the salt, pepper and nutmeg. Add the mixture to the spinach and stir, then add the chopped Feta and pressed garlic and stir well again.


Transfer to a pie dish and press down the mixture with a spatula so that it is well packed. Try to include as little liquid as possible when you transfer the mixture to the pie dish.


Place in the oven for 30 minutes then take it out and leave to cool before serving.
Author's bio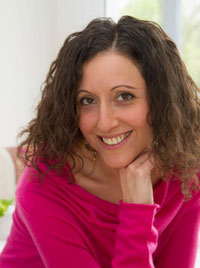 Hiba Giacoletto is a Certified Health Coach from the Institute for Integrative Nutrition (IIN) with a Masters Degree in Psychology
Hiba helps people lose weight, feel more energetic or take control of their eating without diets or deprivation. She believes that no one way of eating or living works for everyone and that it is about experimenting to find what truly works for you. She uses a unique blend of NUTRITION + PSYCHOLOGY + COACHING to help people start trusting their body's wisdom to make food and lifestyle choices that enable them to look and feel their best. She is convinced that regardless of what you might have tried in the past, she can help you get unstuck, overcome self-sabotage behavior and find your mojo!
You can book a FREE 45 minute Health Chat via her website, www.healthwise.ch to find out whether Health Coaching is right for you.
www.healthwise.ch
www.facebook.com/healthwise.ch
www.twitter.com/HibaGiacoletto
www.pinterest.com/healthwisech/