By Hiba Giacoletto, Healthwise
Chocolate and Easter seem to go hand in hand - so why not try making your own chocolate this Easter? You need only 3-4 ingredients and it tastes so divine, you will never want to go back to store-bought chocolate!
This recipe uses both cacao butter and coconut oil. Cacao butter is what gives this chocolate that irresistible, melts in your mouth taste but you can also just use coconut oil if you can't find cacao butter.
When cacao powder is used raw, unsweetened and unprocessed, it has one of the highest antioxidant levels of any food and is also a good source of magnesium, iron, zinc and more. Cacao can help prevent depression as it contains tryptophan, a precursor to serotonin, the happiness neurotransmitter, and it also has positive effects on cardiovascular health.
INGREDIENTS
60g extra virgin coconut oil
25g cacao butter
2-3 tbsp honey
4-5 tbsp cacao (full fat)
a pinch of sea salt
Any taste you would like to add to your chocolate such as mint essential oil, lemon zest, rose water and just plain chocolate.
METHOD
Melt the coconut oil and cacao butter in a double boiler until they melt.
Add the honey and stir until everything is incorporated.
Sift the cacao powder if it is lumpy into the mixture.
Add the salt and any extra taste you may be using and stir until the mixture is smooth.
Pour the mix into silicone molds or anything made of paper – you can use cupcake papers as well. If you have a silicone cake pan, you can also use that to create a chocolate bar.
Place the chocolate in the freezer for at least 10 minutes until it is set. The chocolates can then be removed from the forms and stored in the fridge or simply kept in the freezer.
Author's bio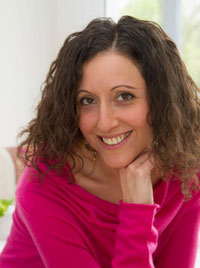 Hiba Giacoletto is a Certified Health Coach from the Institute for Integrative Nutrition (IIN) with a Masters Degree in Psychology
Hiba helps people lose weight, feel more energetic or take control of their eating without diets or deprivation. She believes that no one way of eating or living works for everyone and that it is about experimenting to find what truly works for you. She uses a unique blend of NUTRITION + PSYCHOLOGY + COACHING to help people start trusting their body's wisdom to make food and lifestyle choices that enable them to look and feel their best. She is convinced that regardless of what you might have tried in the past, she can help you get unstuck, overcome self-sabotage behavior and find your mojo!
You can book a FREE 45 minute Health Chat via her website, www.healthwise.ch to find out whether Health Coaching is right for you.
www.healthwise.ch
www.facebook.com/healthwise.ch
www.twitter.com/HibaGiacoletto
www.pinterest.com/healthwisech/