By Hiba Giacoletto, Healthwise
Do you often crave something sweet after a meal?
I have the perfect healthy treat for you!
Sweetened with dates, these Sweet Spiced Balls also contain minerals and vitamins such as iron, potassium, calcium, manganese, copper and dietary fiber. Make sure you have a good food processor (S-blade) to grind dates into a paste though as they can get stuck in blenders.
Always buy the best quality you can find, preferably the Medjool variety. They are bigger and softer than other dates and work very well as a paste.
These Sweet Spiced Balls are extremely versatile, allowing you to use any spice or spice mix you want. They are also very simple to make, taking only a few minutes to blend and a few more to shape.
Ingredients
1 cup whole hazelnuts or almonds OR 2 cups ground hazelnuts or almonds
1 cup pitted Medjool dates
1-3 tsp spices (to taste): Cinnamon only, gingerbread spice mix, chai spice mix, cacao powder or any other spice you want
a dash of sea salt
Method
Grind the hazelnuts or almonds in a food processor. You can also buy them already ground but I find doing it myself adds more flavor.
With the food processor running on medium, drop in the dates one by one through the feed tube.
Add the spices and sea salt and process until the consistency is uniform and crumbly. You should be able to easily form a ball between your hands. If this is not the case, add more dates
Roll into balls and store in the fridge until you serve/eat them.
For a more sophisticated twist, you can roll the balls in shredded coconut or toasted sesame seeds and serve them truffle style (as in the photo above).
Author's bio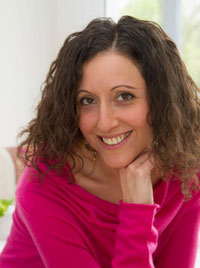 Hiba Giacoletto is a Certified Health Coach from the Institute for Integrative Nutrition (IIN) with a Masters Degree in Psychology
Hiba helps people lose weight, feel more energetic or take control of their eating without diets or deprivation. She believes that no one way of eating or living works for everyone and that it is about experimenting to find what truly works for you. She uses a unique blend of NUTRITION + PSYCHOLOGY + COACHING to help people start trusting their body's wisdom to make food and lifestyle choices that enable them to look and feel their best. She is convinced that regardless of what you might have tried in the past, she can help you get unstuck, overcome self-sabotage behavior and find your mojo!
You can book a FREE 45 minute Health Chat via her website, www.healthwise.ch to find out whether Health Coaching is right for you.
www.healthwise.ch
www.facebook.com/healthwise.ch
www.twitter.com/HibaGiacoletto
www.pinterest.com/healthwisech/