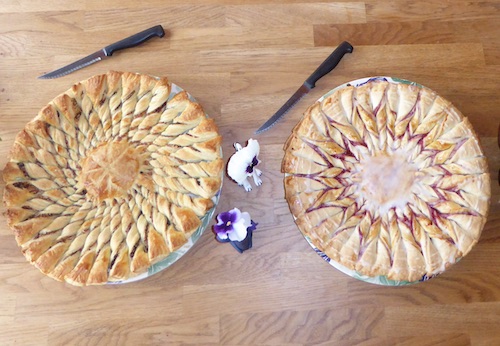 This is an easy recipe that anyone can make. AND it is very impressive... everyone will ask you how you did it!
Savory tart
2 round disks of puff pastry
1 egg or coffee cream or milk
Choose one of these savory ideas or invent your own
1. Cream cheese, tapenade, chorizo, sesame seeds (top)
2. Smoked salmon, Cantadou or Tartare or cream cheese, crispy fried onions (top)
3. Sun dried tomato spread, mozzarella, oregano (top)
4. Red pepper spread, cheddar cheese
5. Anchovie paste, artichoke paste, parmesan cheese (top)
6. Blue cheese, diced pear
7. Mayonnaise, sliced chicken, crispy bacon, sunflower seeds (top)
Sweet tart
2 round disks of sweet pastry or shortbread pastry.
1 egg or coffee cream or milk
(Optional when finished baking) Glaze with a mixture of 4T powdered sugar and juice of one lemon (or water) until thick enough to coat top of tart. Let harden about 40 minutes.
Choose one of these sweet ideas or invent your own
1. Cream cheese, raspberry jam
2. Cream cheese, lemon curd
3. Peanut butter mixed with dried milk powder, strawberry jam
4. Mascarpone, finely ground almonds, Amaretto liqueur
5. Nutella, hazelnuts
6. Chestnut purée, chocolate chips
7. Chocolate sauce, chopped banana
See quick and easy video instructions at this link
Instructions:
Pre-heat oven to 200ºC.
Place one disk of pastry on a baking sheet lined with parchment paper.
Cover with your ingredients leaving 1cm border.
Brush beaten egg along border.
Place second disk of pastry on top and press edges together with a fork.
Brush beaten egg over top.
Place one glass in the middle to mark a circle and remove.
Cut a line from edge of middle circle to outside, repeat at opposite side. Cut again and again and again each time dividing the uncut areas in half until you have 32 strips.
Lift up one strand and twist 3-4 times. Place it down. Repeat with all 31 remaining strips. You can also twist 2 adjoining strips toward each other for a different pattern.
Bake on bottom rack until brown and cooked through (25-30 minutes).
Remove and let cool.