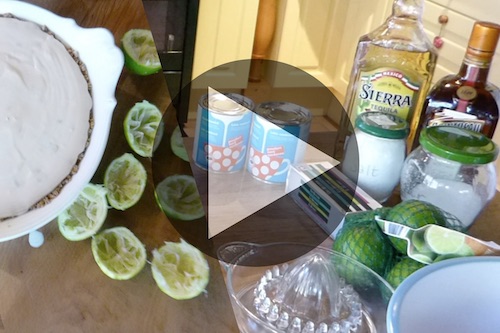 Click on photo for short video recipe
Remember, Tequila + Lime + Salt = perfect combo! Here is another recipe that came in handy when my oven was on the blitz a few years ago. No need to bake and assembled very quickly... but leave time for it to set.

I think it works well and more elegantly if you omit the crust and pour the filling into margarita glasses and top with a few pretzels! Either way, you won't be disappointed.
Recipe below:
CRUST
2 cups crushed digestive biscuits (OR crushed pretzels, OR crushed graham crackers)
6 T unsalted butter, melted
3 T sugar
salt (3 pinches is what I used but if using salted pretzels, you can omit salt)
Mix 3 ingredients together. Press into a 9-inch pie plate. Refrigerate while you are mixing the filling.
FILLING
800ml sweetened condensed milk. You can use 400ml sweetened and 400ml unsweetened if you prefer.
400ml cream
2 T finely grated lime zest
3/4 cup freshly squeezed lime juice (make sure to zest before squeezing)
6T Tequila
2T Cointreau (or Grand Mariner)
pinch of salt
In a medium bowl, using a hand whisk (not electric), mix the condensed milk, cream, zest, Tequila, Cointreau, and salt. Add the fresh lime juice and stir. It will thicken immediately. Continue to let stand for 5 minutes to thicken.
Pour filling into crust.
Cover with plastic wrap; try to not let the wrap touch the top of the filling by using a cutting board or plate laid on top.
Refrigerate until firmly set, about 4 hours.
Just before serving, garnish with lime slices or sliced strawberries (if eaten straight away).
Remember the alcohol is not cooked out! If you would like to omit the alcohol, then you can try to add something else (maybe sirop?). I haven't tried without as it is SO GOOD with!
#followlisanow #margaritapie #nobakedessert #tequilapie #limepie