By Duncan Reeve, Peak of Wellbeing
How can Nutrition be stressful?
Not eating enough food can be very stressful for the many functions and glands in the body.
Eating too much food can obviously also be stressful for the body, putting pressure on the digestive system.
If we put aside junk food and processed foods, all foods are healthy foods, but the question is, 'are they healthy for you the individual?'
We all have different body shapes, therefore we all have different requirements for food. Our outer physical bodies are as different as our bodies on the inside. Our thyroid glands, adrenal glands and pituitary glands can all come in different shapes and sizes too!
Some people can be more prone to issues with certain glands. This often shows up in the shape of the body and certain symptoms you may be experiencing. For example, people with adrenal gland issues can often be thin and have a much smaller build in general and struggle to 'sit still.' People with thyroid problems may carry excess weight around the middle and have white spots or ridges on their fingernails. Many women and men with pituitary gland issues often suffer from excess cellulite, particularly on the outer part of the thigh and struggle with fluid retention.
Some people may have a problem with one or all three glands. This concept has been developed by Dr. Cass Ingram and is highly valuable at helping people to overcome many health issues.
We experience a great deal of nutrition stress if we don't feed our glands.


So how do we feed the glands?
The Adrenal Glands:
1. Use high quality, unprocessed sea salt or rock salt liberally.
2. Eat high quality GOOD Fats such as organic coconut oil, organic butter, olive oil, avocado oil, and raw nuts.

The Thyroid Gland:
1. Eat fish and seafood regularly. Yes there is pollution and heavy metals in the sea to consider, but the thyroid desperately needs iodine. Rich sources of iodine are fish and seafood. Wash all seafood and fish thoroughly before cooking.
2. Avoid eating vegetables such as cabbage, cauliflower, carrots and broccoli raw if you have a thyroid problem. They contain goitrogens which are known to block the absorption of iodine and can interfere with thyroid function.
The Pituitary Gland
1. Eat organic free range eggs. Try to keep the yoke soft and intact as this keeps the naturally occurring hormones needed in tact. So eat soft boiled, poached or lightly fried in organic butter.
2. Pituitary types often have sluggish digestion. They often have a hard time breaking down grains and gluten. Instead try gluten free grains such as buckwheat, wild rice, brown rice or millet.

If you would like to find out which gland needs help in your body and how to change your body shape, come along to one of our FREE Body Shape Talks or to one of our Body Shape Workshops. During the talk you have the chance to complete a mini survey to see which gland or glands may need help in your unique body and how to change that.
Images by Raw Food Rehab, and Beyond Elements
Author's bio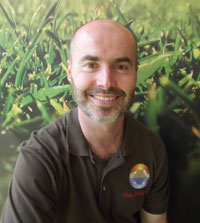 Duncan Reeve is one of the co founders of Peak Of Wellbeing. He has been in the health, fitness and wellbeing industry for over 12 years at varying levels i.e. providing gym floor, personal training, manual therapy and massage, group exercise classes.
Duncan is also a C.H.E.K Practitioner, Corrective Exercise Specialist, Holistic Lifestyle Coach and Golf Performance Specialist, and has trained extensively under the CHEK Training scheme for the last 12 years. He is now part of Team CHEK, teaching and presenting CHEK programmes throughout Europe and the UK. The CHEK system is a 'whole' body approach, which means a practitioner looks at the way an individual moves, breathes, eats, sleeps, thinks and hydrates.
Acclaimed for his passionate and enthusiastic teaching style and willingness to share knowledge, Duncan is an avid golfer and cricketer and works with many sports men and women, including golfers, from professionals to amateurs, as well as designing health and wellbeing programmes for all types of individuals.
He works with clients in Europe and the UK on a one to one basis, in small groups and via workshops, and his specialist areas include:
1. Golf Performance Conditioning
2. Back Pain & Core Strengthening
3. Rehabilitation & Corrective Exercise
Duncan Reeve, Dip. Sports Therapy, Premier Personal Training, Master CHEK Practitioner Level 3, CHEK HLC L3, CMTA and Golf Performance Specialist.