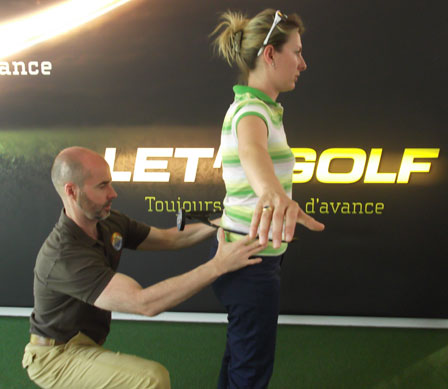 By Duncan Reeve, Peak of Wellbeing
Did you know that existing muscle imbalances could be hampering your swing, causing a potential injury and preventing you from improving?
The full swing requires nearly perfect joint mechanics for optimum performance & injury prevention.
Through years of training golfers and rehabilitating backs, shoulders, knees and hips, I have found that the majority of male golfers could greatly benefit from improved flexibility in the hips and low back. This lack of flexibility in the back could show up as excessive movement from the hips, with too much sideways movement in the backswing. In addition, the upper back and arms tend to be overused due to make up for this lack of movement in the lower back.
In fact, the number one injury among male golfers is low back pain, 53 %, followed by elbow pain, 24%. Among female golfers, the number one injury is also back pain, 45%, followed by elbow pain, 27%. (ref. Frequency of Golf injuries. 1996 Clinics in Sports Medicine.)
I am all too aware how frustrating it can be missing time on the course, or have your game affected by niggling injuries and recurring back pain. Through clinical experience of working with female golfers, I have found that females benefit from increased stability in the hips, low back and core muscles. This means that there is less chance of injury and an increase in shot distance. Males tend to need more flexibility in the lower back, and to be more mobile in the hips. This can be achieved by stretching certain muscles around the hips and introducing some rotational exercises.
Within a few sessions you can feel and see an improvement, such as an increase in shot distance. Now I am sure most golfers would like to be able to increase their drives and fairway shots!
So this is why I believe that golfers need to understand which muscles need to be stretched and when to achieve optimal performance and enjoyment. It is possible to achieve pain-free, high performance golf without spending hours in the gym.
"Improve the body, Improve the golf"
For more details on my Golf Talks and Workshops email: This email address is being protected from spambots. You need JavaScript enabled to view it.
Author's bio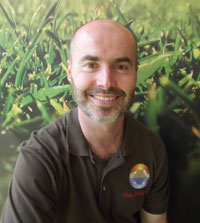 Duncan Reeve is one of the co founders of Peak Of Wellbeing. He has been in the health, fitness and wellbeing industry for over 12 years at varying levels i.e. providing gym floor, personal training, manual therapy and massage, group exercise classes.
Duncan is also a C.H.E.K Practitioner, Corrective Exercise Specialist, Holistic Lifestyle Coach and Golf Performance Specialist, and has trained extensively under the CHEK Training scheme for the last 12 years. He is now part of Team CHEK, teaching and presenting CHEK programmes throughout Europe and the UK. The CHEK system is a 'whole' body approach, which means a practitioner looks at the way an individual moves, breathes, eats, sleeps, thinks and hydrates.
Acclaimed for his passionate and enthusiastic teaching style and willingness to share knowledge, Duncan is an avid golfer and cricketer and works with many sports men and women, including golfers, from professionals to amateurs, as well as designing health and wellbeing programmes for all types of individuals.
He works with clients in Europe and the UK on a one to one basis, in small groups and via workshops, and his specialist areas include:
1. Golf Performance Conditioning
2. Back Pain & Core Strengthening
3. Rehabilitation & Corrective Exercise
Duncan Reeve, Dip. Sports Therapy, Premier Personal Training, Master CHEK Practitioner Level 3, CHEK HLC L3, CMTA and Golf Performance Specialist.