By Sarah Frei, Brillantmont International School
Next time you go to a restaurant with your children, take a look around and I'm sure you'll recognise the following scenario. There'll be the parents, smart phones firmly out of sight, trying to engage their children in discussions as varied as sports training, Justin Bieber, braces and organising homework. Their children cast envious gazes towards the neigbouring table at which conversation has long died a death, with mum, dad and everyone else hooked to their screens. Then, there'll be the family where, keen to be fair, each child is allowed 5 minutes on the smart phone in between courses- very equitable in theory but in reality a second by second countdown resulting in arguments about who's had longest.
Sound familiar? As to which family's approach is right, you can be the judge of that.
The reality is that none of us has all the answers when it comes to technology and the big question of technology in schools is something of a hot potato.
This piece certainly does not contain the "right answers" because how can we possibly know what they are? However, it will raise points on which as parents, educators, responsible adults, we should reflect.
Personally, I feel that we have a duty to prepare our children for tomorrow's world, which means keeping abreast of today's technology. Most experts agree that access to technology needs to be staged, in terms of what is being accessed, whether accompanied or not and also in terms of the length of time. The technology is out there: it's up to us to set boundaries and to use it intelligently.
The debate about how young is too young rages on yet certainly by the time a child starts school, most will have encountered the Internet and the use of search engines. Naturally, they will still be accompanied by an adult yet using certain functions buttons and having control enables them to take ownership of their experience.
The amount of technology children are getting in school depends on the school. Some schools teach ICT from a young age; many have removed it from their curriculum. Used in a balanced way, technology can reinforce and expand students' knowledge, allowing them to access information in different formats. The UK government has expressed concern that children know how to use technology but don't actually know how to create the technology behind it. In other words, they might know how to use an app, but they don't know how to actually make that app. Yet, do we need to know how to make a washing machine in order to make it work? I'm not so sure.
Media reports often cloud our judgement. We frequently hear about the evils of video games, yet some provide a great opportunity for peer collaboration, improve reaction times and develop spatial awareness. The skills required to move a cursor help develop eye to hand co-ordination and the games can be highly educative. Many software developers are creating extraordinary games and have clearly understood that children have different learning styles, since their games enhance classroom learning in an imaginative way.
I am rather "old school" since I resist writing in text jargon: indeed, many of my daughter's phone messages are meaningless to me! Yet academic research suggests that even text messaging helps develop literacy skills and sensitises children to the use of appropriate language and register.
"What's app" is a great tool for working together and sharing information either visually or by voice messages, through the creation of groups. Children might be working on a project but might be scattered across town, so using " What's app" enables them to connect, share and exchange in real time.
Let's not forget either that many families are scattered across the world. Skype, FaceTime and other similar tools bridge the distance and ensure that grandparents and family members don't miss out on those milestone moments. Manipulating these tools -handling a mouse, clicking on the appropriate icon etc. - requires skill and a certain level of dexterity.
The key word in all this is balance. A virtual hug on the computer or a smiley face doesn't replace the warmth of a real hug or the emotional connection of a face to face conversation. We've all heard alarming statistics regarding young people, on the verge of technology addiction, lacking empathy, unable to engage emotionally with others. Certainly, there is a darker side to the digital world which we must always keep in mind, not only in terms of content appropriateness but also in terms of the social effects it can have on individuals. This is why setting clear boundaries with regard to where and when technology can be used in your family is crucial. Create a digital charter together with your children, which you then display in a prominent place, so everyone is reminded of the expectations. Designate one day per week as "digital detox" day and use it to get outside, spending quality time together doing something active. Lead by example: don't reprimand your children for too much screen time when you can't put your own telephone down.
As parents today, technology poses an enormous challenge but also tremendous possibilities. We want our children to become confident users and even innovators of technology but we also want them to become well-rounded individuals, at ease in different social situations, happy, creative and comfortable in themselves.
Bio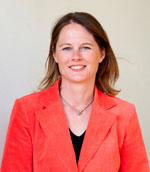 Sarah Frei comes from England. After a BA at UCL followed by an MA at Exeter University, she headed to multilingual Switzerland to put her language skills to use.
In her many years at Brillantmont International School, a day and boarding school in Lausanne with a British IGCSE /A Level programme and an American High School programme for 11-18 year olds, Sarah's roles have considerably evolved, to reflect the fast-moving world in which we live. She started out teaching English language and literature before becoming Head of Marketing and Communication.
Sarah is responsible for all marketing, branding, communication and school events and also looks after the 4000-strong alumni network.
She is excited by the opportunities created by technology not only to communicate with the multicultural, far-flung school community but also to share knowledge and experiences about educational practice. At the heart of all those activities lies the driving force – the desire for each child to develop their full potential.