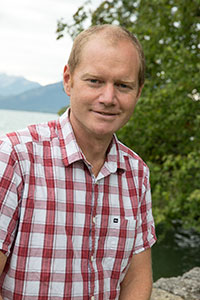 Gareth Jefferies left the West Yorkshire Police in 1999 to make a new life for himself and his wife in the mountains. A keen skier, with a love for all mountain activities, he really appreciates the distinct seasons that you get in this region. He now has 3 children, all of whom love the outdoors - indeed one is aiming to compete for France as a Biathlete in the 2020 Youth Olympics in Lausanne!
Responsible for marketing and technology at Alpine Properties, a French-registered estate agency with bilingual agents located all over the French Alps, Gareth is usually the first contact you will have the company. He is always happy to discuss your project with you, usually by email, suggesting various properties and making appointments.
by Gareth Jefferies, Alpine Property
I don't suppose living in the Alps is that great from an Ecological perspective. Though as time goes on we are learning (actually, being slowly forced) to reduce our carbon footprint on the environment. Not many people think about this though, even with the government's attempts to help (see the DPE labels). I've written about it in the past too (An Eco-Chalet in the Alps). Despite this I did have a customer say to me recently "I'm only interested in building a new place...for eco reasons", maybe as time goes on it will happen more often? Though I'm not sure that building from scratch is that eco-friendly, despite the fact the heating bills will be less. The carbon footprint from the new materials might well outweigh the long-term benefits.
I've been living in my house for 14 years and have only got around to upgrading the last remaining single glazed windows this winter. It's never been a priority for me as I'm well aware that the pay back won't happen for 20 or more years. I took the opportunity to take some infrared pictures to show the difference before and after. It was a bit of an eye opener. Not the difference the windows made but how much heat my house is giving off!
The first photo shows my house on a cold day (-7C), the ground floor is 60cm of solid (stone and rubble) construction with no insulation. The upstairs of my property was insulated when it was renovated 30 years ago. They use hollow bricks with a small amount of mineral wool insulation stuffed between them. There is no vapour barrier and externally the walls are wood clad. The shocking thing here is the walls are 10C. The single-glazed windows are obvious on the picture and are only slightly colder (15C) than the inside temperate at the time (19C).